The demand for heat exchangers is anticipated to grow, owing to numerous factors such as increase in number of food industries, rise in demand for energy, surge in number of chemical industries, and others. Furthermore, there is a significant increase in CO2 emissions because of energy generation from coal. Due to which the government of India has aimed to reduce its dependence on coal and move toward a sustainable solution-generation of energy from nuclear power. Generation of the energy from nuclear power increases the adoption of heat exchangers. However, the rise in fouling problems have increased the maintenance cost for end-user industries, which is anticipated to hinder the market growth. On the contrary, the automobile industry is growing at a considerable pace, which is anticipated to create lucrative growth opportunities during the forecast period. Aluminum-based heat exchangers are mainly used in automotive applications as it offers advantages such as light weight, excellent corrosion resistance, high thermal conductivity, and others. 

Heat exchangers play an important role in the food industry, as they are used for the production of fruit pulp, food paste, juices, hazelnut pastes, yogurts, and others. Furthermore, many industries in India have adopted high-end energy-saving heat exchangers to mitigate the issue of their loss, owing to rise in the cost of energy, which significantly drives the growth of the market.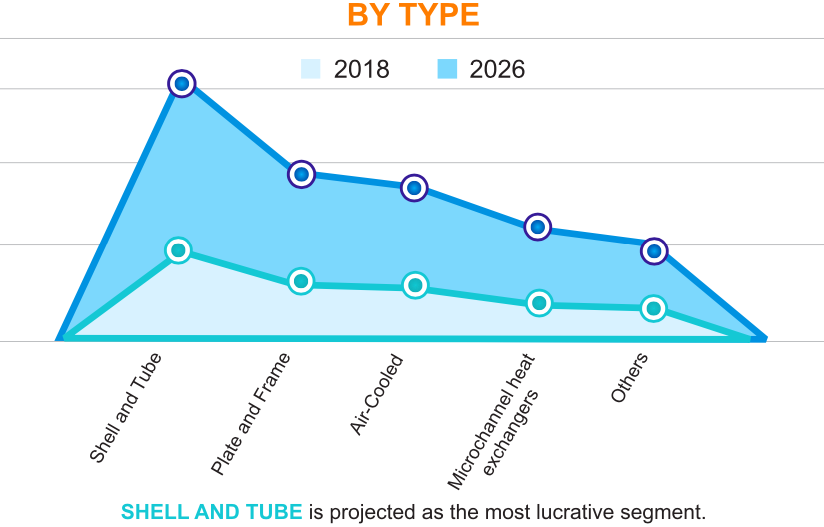 Shell & Tube segment is anticipated to grow at the fastest rate as well as gain a dominating share .
Key Highlights of the India Heat Exchangers Market:
● Based on type, the shell & tube segment is expected to gain dominant share 33.2%
● Based on end-user industry, oil & gas is expected to experience rapid growth with a rate of 9.2%
● Based on the material of construction, carbon steel heat exchangers are projected to grow at the highest CAGR of nearly 8.9%, in terms of revenue, during the forecast period.
● A comprehensive analysis of the factors that drive and restrain the heat exchangers market growth is provided
● An extensive analysis of various government policies provides insights that are expected to allow companies to strategically plan their business moves
● The qualitative data in this report aims at the market dynamics, India heat exchangers market trends,
● The developments in the India heat exchanger industry are also studied 
● The quantitative data provides the India heat exchangers market size in terms of revenue
Heat Exchangers Production in India is Cheaper

Global Heat Exchangers Market Outlook
Global heat exchanger market is expected to witness significant growth during the forecast period owing to increasing investments in various industries including marine, food process equipment, power generation, oil & gas, power generation and food & beverages. The Asia
Pacific region is dominating the heat exchanger market, due to increasing investments in chemical industries and increasing power generation capacity in countries like China, Japan and India. Hence, the growth of manufacturing, chemical, and construction industries in Asia-Pacific is expected to dominate the market growth during the forecast period. According to the World Nuclear Performance Report 2018, published by the World Nuclear Association, four reactor construction projects have been commissioned by 2017 with a capacity of 4298 MW from countries such as India, Bangladesh and South Korea, which signifies a huge contribution from Asia-Pacific countries which drives the market demand for the heat exchange market. Hence, the global heat exchanger market generates a significant demand across verticals of industries for application of heat exchanger which brings the market growth during the forecast till 2023.