Please tell us about your company and its journey so far.
Fluid Air Systems was started by me (Mr. K N Narasimhamurthy) by investing my whole provident fund in the year 2002, venturing into design and manufacture of Air Pollution Control Equipment's,  Years later in 2013, we moved our home based business to our own Industry in Machohalli Industrial Area, Magadi Main Road, Bangalore 91,  with necessary infrastructure and equipment. In 2016 we established one more firm in the name of FLUID AIR SYSTEMS PVT. LTD.
What are the industry growth potentials in the next five years?
The demand for industrial air pollution control equipment is high, especially in the developing economies. There are industries like food and beverages, Cement, Wood, Chemical Industries, and pharmaceuticals which need clean environment as part of their process requirement. The demand for APC equipment is expected to grow at a CAGR of 4.4% until 2025. APAC has experienced a rapid rise in industrialization. In the last 10 years, China, India, Indonesia and Vietnam are the key contributors to various types of industrialization. Severe air pollution levels in countries such as China and India have led to revamp of policies and implementation of stringent air pollution standards. APAC industrial air pollution control market is estimated to have a market size of $6.4 billion, growing at a CAGR of 5.5% between 2017 and 2025.
How are Fluid Air Systems products different from others'?
From the very beginning we have laid stress on both technical performance and quality of Manufacturing of all equipment leaving our factory. We ensure on time deliveries as per the agreed terms. We have an experienced team of engineers and technicians to promptly attend to all pre and post installation service requests.
What are the challengers of the Process Industry to the COVID 19 crisis?
In the COVID 19 crisis, during the first 21day lockdown we could not Open our industry and unable to serve our customers. Immediately afterwards we received permission from the department of industries and commerce (Govt OF Karnataka) and FKCCI and KASSIA to resume operations, this helped our type of Essential Commodity of industries to overcome the COVID 19 crisis.
Kindly help our readers with a list of product portfolios you deal in.
Our products include Centrifugal and Axial Flow Fans and Blowers, Cyclone Dust Collectors, Pulses Jet Bag Filters, Scrubbers, Spray Painting Booths, Ventilation and Fresh Air Systems, Fume Extraction Systems, Pneumatic Conveying Systems and allied items like, Sound Attenuators, Rotary Feeders etc. Today we are considered to be the leading and most reliable cost effective turnkey supplier to the entire grain processing industry comprising all Auto Rice Mill Pulses Mills, Spice and other grain processing facilities throughout India and our neighbouring countries Sri Lanka, Bangladesh, Myanmar and Nepal. Other export orders were from African Countries, Asian Countries, Russia, In recognition of the outstanding performance in exports have received best exporter award 2015 from KASSIA, super Tycoon business under MSME award 2017 from Assocham India & Ujwala Udhyami award 2017 from KASSIA.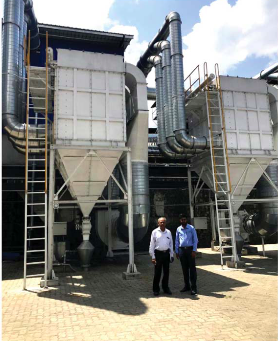 What is your business enlargement plans in the coming year?
We are dedicated for the development of our business and expansion worldwide. We have started construction of our new Industry on KIADB land at Sompura Industrial Area. Bangalore-Mumbai Road, We are in the process of procurement of the required machinery from indigenous sources and also import some special purpose machines. We also expect to finalise our collaboration agreement with a European Partner soon.