Agrochemicals are specialty chemical products which include fertilizers, pesticides, soil conditioners, liming & acidifying agents and hormones, used in agriculture, floriculture and horticulture to enhance crop productivity. The product is used for increasing crop growth & yield, killing pests & weeds and controls parasites and infectious diseases in animals. Additionally, hormones are routinely administered in animals to upsurge their growth and productivity, for instance, bovine growth hormone is given to cows for enhancing milk production. The function of agrochemicals is to manage an agricultural ecosystem. Agrochemicals as the name suggests has widespread use in the agriculture industry. Most of the applications of the agrochemicals revolve around agriculture.
The major driver is that the global population is currently at more than 7 billion and still increasing. It is possible that the food demand increases in the forecast period. Additionally, scarcity for land and water is allowing the people to use fertilizers and pesticides which will help to grow multiple crops in a certain area. In contrast, due to the rising environmental hazards from these fertilizers and pesticides it is anticipated that it is possible to foresee a decline in the usage of fertilizers and pesticides in the forecast period. By over using the land for agricultural productivity, land loses essential nutrients which are pivotal in the growth of a crop. This is the key driver for the nitrogenous fertilizers market's increasing growth rate. The global crop output is diminished due to the pest attack and diseases caused by them. There is an opportunity to develop in fertilizing technology to boost farm production with increasing government investments in the agriculture sector to improve the crop yield. Secondly, bio-pesticides are new age crop protection products manufactured from natural substances like plants, animals, bacteria and certain minerals and they are eco friendly and easy to use.
Insecticides segment held around 55 % share followed by fungicides and herbicides contributing 18 % and 16 % share of the agrochemicals market in India. India's capability in low cost manufacturing, the availability of technically trained resources, seasonal domestic demand, overcapacity, better price realization, and a strong presence in generic pesticide manufacturing are the major factors boosting the insecticide segment growth.
Cereals and pulses, fruits and vegetables are estimated to grow at 2 % per annum, and 4 % per annum contribute to the overall agricultural growth. Cereal & grains is forecasted to dominate throughout the forecast period.

Cereal & grains are traditional diets of Indian population. Total food grain production in the country is expected to reach a record 277.49 million tones crop year. Vegetable & fruits being the second largest segment is analyzed to gain growth in future years. Demand for processed food is rising with growing disposable income, urbanization, a young population and nuclear families. The objective of the report is to present a comprehensive assessment of the market and contains thoughtful insights, facts, historical data, industry-validated market data and projections with a suitable set of assumptions and methodology.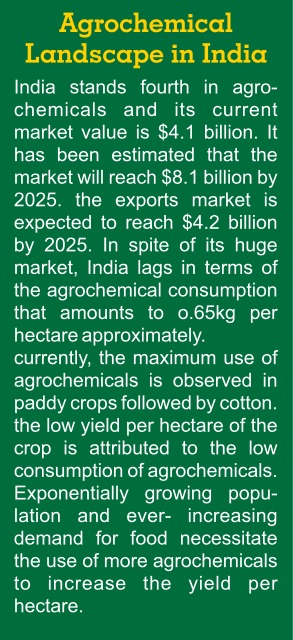 Current market trends in the industry

Key challenges facing the Indian agrochemical market
High cost involved in the research and development of a new agrochemical molecule
Controversies over genetically modified seeds
Lack of effective distribution systems
Rising demand for organic products
Marketing of spurious products
Key opportunities for Indian agrochemical market
There is a scope for increasing the usage of agrochemicals by Indian farmers by conducting workshops and special training programs. The export potential of agrochemicals can be increased by taking advantage of the low cost of production. Increasing the market for generic players is another strategy to increase the market as many agrochemical molecules have gone off patent recently. It is much expected from the manufacturers that they take into consideration the current trends like integrated pest management, organic farming etc. and broaden their product portfolio to match the requirements of its consumers.