Jinko's South & Central Asia team came together in Dhaka for a week full of interesting client meetings and site visits. The response and reception to Jinko's products and technology in Bangladesh was welcoming. "Jinko will go on to establish itself as a serious and competitive player in the Bangladesh market. We are working with local partners and clients to bring the latest N Type technology to Bangladesh with our Tiger Neo offering", said Mr. Daniel Liu – Managing Director, South & Central Asia.
On 20th November, Jinko organized an exclusive corporate event in Dhaka. The event saw a better than expected turn out with an overall participation from Government Officials, Project Developers, EPCs, System Integrators among others. Jinko showcased its latest product – Tiger Neo, based on the N Type technology and its brand-new ESS solution for the residential, utility and C&I segments.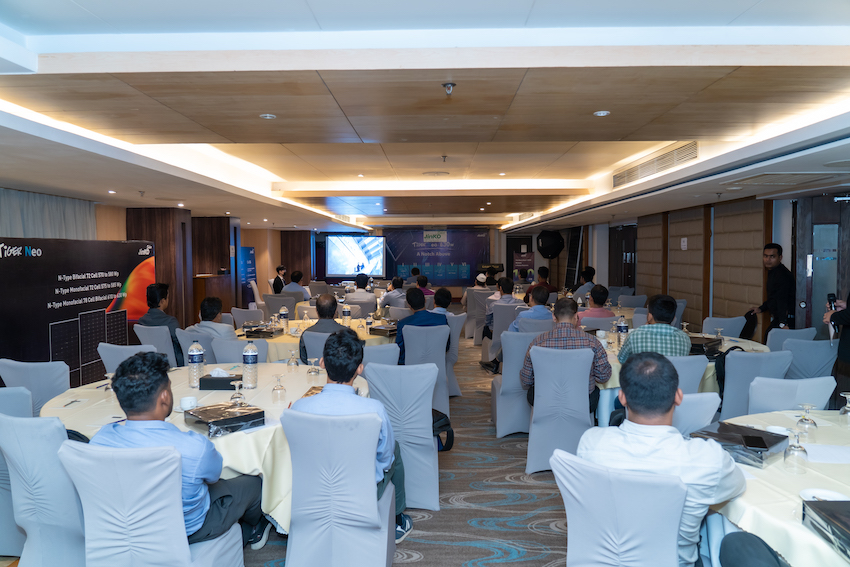 The event was attended by all the known personalities in the Bangladesh solar space. Jinko's Sales Director for South & Central Asia, Mr. Michael Wang, gave a comprehensive presentation about Jinko's capacity and technology strength, followed by a brief on the Bangladesh solar market and way forward by Mr. Shahidur Rehman, Country Manager – Bangladesh, who is based in Dhaka and leading all of Jinko's initiatives in the country. The highlight of the event was the technical presentation on module technology which clearly established N-Type technology as the future. This was done by Mr. Sai Charan himself, Jinko's Technical Director for South & Central Asia. He went on to explain Jinko's ground-breaking ESS solutions as well which can be customized as per consumer requirements, especially now when it is absolutely needed in Bangladesh.
There was an interactive Q&A session with the audience and the Jinko team enjoyed every bit of it. "We are glad to see today's turn out and the immense interest that the market has in Jinko's offerings. We are sure that Jinko will build a strong and reliable brand name for itself in this market and replicate the success we have had in India and other regions", quoted Mr. Michael Wang.
JinkoSolar was also an exhibitor at the Dhaka Apparel Expo during 14th to 16th November in the Made in Bangladesh Week. The team got an overwhelming response from key decision makers in the textile industry who are all-in to solarize their operations and tap into the huge potential for savings and going green. This will be a primary client segment for us in Bangladesh in the Distributed Generation space as the garment and textile industry is the largest here and growing each day", commented Mr. Daniel Liu.