HARTING INDIA PRIVATE LIMITED has won the Global Innovator in Interconnect Solutions of the Year award by BISinfotech, as part of the BIS Excellence and Technovation Awards (BETA) 2022. The event held virtually last week, recognized the outstanding contributions and innovations from India's foremost tech enablers mainly from the top three sectors in the country: SEMICON awards, EV Tech awards and Food Tech Awards.
Being one of the most distinguished recognition, in the semiconductor and electronics industry, The BETA Awards is held with an aim to acknowledge and appreciate the exceptional accomplishments in the industry. The BETA AWARDS is a platform to honor the leaders, innovators and organizations for their unparalleled innovations and market strategies which make them the best in the business.
Speaking at the awards, Mr. Vidyabhushana Hande, our Acting Managing Director (HARTING INDIA PVT LTD) said, "Next to nature, I would say that the information the scientists and engineers gather from the media, have always inspired them. Considering that, I would like to thank BisInfotech, Food Infotech and EV Mechanica in their respective space covering the well interesting article from innovation to the prototype and designed product." He also said "Every industry, irrespective of the size of their business, have implemented digitalization and automation and have seen the success. Specifically, our company HARTING, headquartered in Espelkamp, Germany, founded in 1945, is known for providing a very high reliable high performing quality products, specifically the connectors and associated solutions for Power, Data and Signal transmission distribution and networking applications. In India, we are supported by our local manufacturing facility here as well as we have our own strong engineering team to address the requirements of the customers, specifically in the wire-harness solutions. We look forward to contribute to the development and growth of the country here. I once again thank the entire initiative, the BETA AWARDS".
HARTING INDIA has received this prestigious award in recognition of our domain expertise in terms of consistent innovation in Technology, exceptional leadership, vision, customer service.
Watch the event video here: https://awards.bisinfotech.com/https://awards.bisinfotech.com/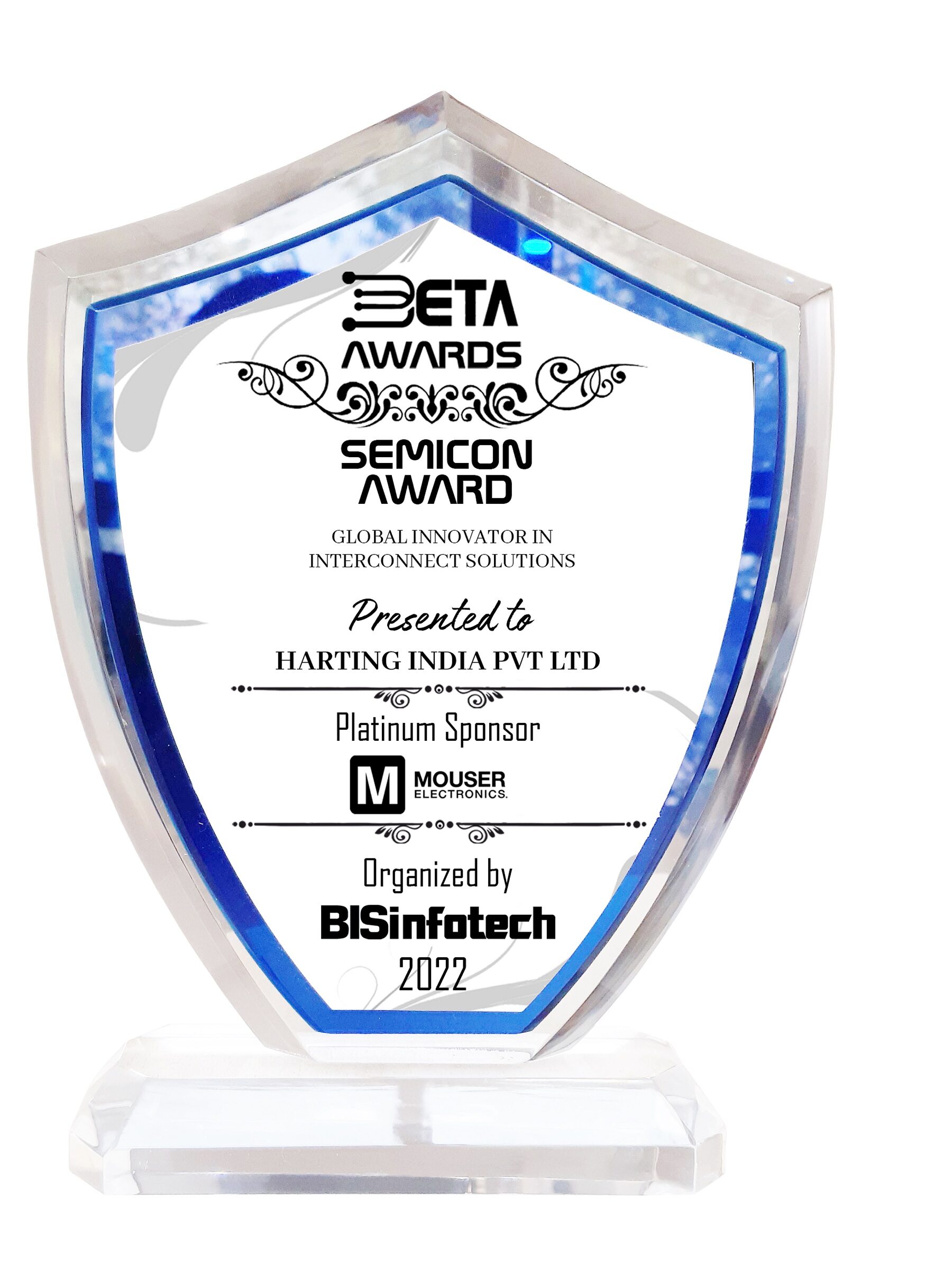 About HARTING:
The HARTING Technology Group is one of the world's leading providers of industrial connection technology for the three lifelines of Data, Signal and Power and has 14 production plants and 44 sales companies. Moreover, the company also produces retail checkout systems, electromagnetic actuators for automotive and industrial series use, charging equipment for electric vehicles, as well as hardware and software for customers and applications in automation technology, mechanical and plant engineering, robotics and transportation engineering. In 2020/21 business year, around 6,200 employees generated sales of EUR 869 million.