Article by- Mr. Edgar D'sa [SF6 Gas Handling Specialist]
The Covid-19 coronavirus was first identified in China's Hubei province in December 2019 and has since become a global health threat, impacting 215 countries or territories and triggering the World Health Organization (WHO) to declare it a global pandemic. The outbreak was declared a Public Health Emergency of International Concern on 30 January 2020.
The power industry is among the sectors affected. India's electricity demand plummeted this week as factories and offices were forced to close due to the Covid-19 lockdown. Peak demand touched a low of 135 GW against an average of about 155 GW in March last year, pushing spot power prices on the Indian Energy Exchange (IEX) to a near-record low.
In March so far, power producers such as NTPC, Tata Power, Adani Power, NHPC and state government utilities generated 3,293 million units a day on average. This is down 3.6 per cent year-on-year (YoY) from 3,418 million units per day during March 2019, according to the daily generation report by the Central Electricity Authority (CEA).
Sources said the closure of offices and factories, reduced buying by state distribution utilities and the Indian Railways stopping passenger services resulted in the slump. Demand from the industrial hubs of Maharashtra, Gujarat, Rajasthan and Tamil Nadu besides that from Punjab's farmers dropped substantially.
Covid-19 may have served a lethal blow to India's stressed private thermal power generation sector, accounting for 37 per cent of 198-gigawatt coal-based generation capacity.
The power generation companies are already suffering delays in payments by discoms across majority of states, with payment due of more than Rs 85000 crore as of November 2019 at all India level as per the data on PRAAPTI portal.
Another impact of the COVID-19 pandemic on the power markets is in terms of the market dynamic. It can be observed that there is a dip in the clearing volume and the market-clearing price, which coincides with the gradually increasing shutdown measures taken by the government as a response to COVID-19. Thus, the reduction in demand due to the lockdown is reflected in the volumes traded on the electricity market and the clearing price.
Another point of reference is the price and clearing volume in 2019. On March 22nd, 2020, the day of voluntary lockdown, the clearing volume was 97.05 GWh, and the clearing price was 2195.48 ₹ /MWh. In comparison, on the same day in 2019, the clearing volume was 107.98 GWh, and the clearing price was 2816.18 ₹ /MWh. From the start of the lockdown, on March 25nd to April 1st 2020, the average clearing volume was 104.27 GWh compared to 130.24 GWh in 2019 during the same period. Similarly, the average market clearing price was 2155.93 ₹ /MWh in 2020 as compared to 3371.025 ₹ /MWh in 2019 for the same period.
The under-construction renewable power projects as well as EPC and manufacturing companies in solar segment are likely to face execution delays because of disruption in supply chain in India and labour availability, following the lockdown. Given the import dependency on China for sourcing of PV modules, the execution timelines for the ongoing solar projects is likely to be affected with delays in the delivery of PV modules following the outbreak of COVID 19 in China. This delay in turn would increase the pre-operative expenses and the overall project cost, which in turn would have impact on the expected returns.
Power Sector Post Covid-19
It is an understatement to say that our world has changed dramatically over the last few months
The Indian Government has granted power companies permission to operate, maintain and conduct construction-related activities of the transmission lines amidst the ongoing lockdown. The federal government in its letter to the state governments said that electrical power transmission is an essential service for the continuous flow of power within and between states, and has been included in the list of activities permitted during the lockdown period.
The Central Pollution Control Board (CPCB) has issued notices to 14 coal-based plants, mostly owned by state-run enterprises and with capacity totaling about 14000 mw, which face closure for not implementing emission control equipment.
Decarbonisation of the global energy system can grow the global economy and create up to 28 million jobs by 2050, according to the International Renewable Energy Agency.
The opportunity to rethink its approach towards fossil fuel provides India with a co-benefit: Reducing the social cost of fossil fuel usage through cleaner air. More than a million yearly deaths in India can be attributed to air pollution.
Air pollution levels in Indian cities – infamous for the worst level of pollution, specifically of dangerous particulates and nitrogen dioxide – drastically reduced due to a fall in fossil fuel consumption in the industrial, power and transport sector, said an April 16 analysis by CREA.
An opportunity to shift to SOLAR & green fuel has come walking without n invitation & India should grab it with both hands. A chance to show the world that INDIA can reduce emissions is something that should be seized with both hands.
As a Company, DILO has only one goal. ZERO EMISSION. With the use of SF6 gas in major GIS substations & the shift gradually from AIS substations to GIS substation in the future SF6 gas is here to stay. SF6 is the 7th most devastating green house gas with 1 molecule equal to 23,800 molecules of Co2 an emphasis on ZERO Emission should be made compulsory.
Challenges during the lockdown
With India going into another lockdown & imports restricted along with access/travel to all locations to Inspect/ Supply /Service SF6 gas handling equipment everything has come to a Grinding halt.
However, in this scenario India has learnt to work from home. This forced activity has been very successful as all the Major companies including Power Grid India has been very accommodating & understanding having joined the same.
All pending jobs have been finalized with new Items as well as spares to service & repair equipment have been ordered keeping in mind that import of most items would take many weeks.
No sooner does the lockdown end, most equipments would either be sailing or would have landed awaiting clearance at Customs. Jobs could be completed unbelievably fast as INDIA would have made the most of the lockdown time in pursuit of making our country Emission Free during the production & distribution of Electricity.
DILO: Innovation is our power
Customers around the world have valued DILO as an important partner for professional and emission-free SF6 gas handling for more than 50 years. Innovation is our central drive to develop solutions which offer you safety, economic efficiency and a technological advantage.
Comprehensive Services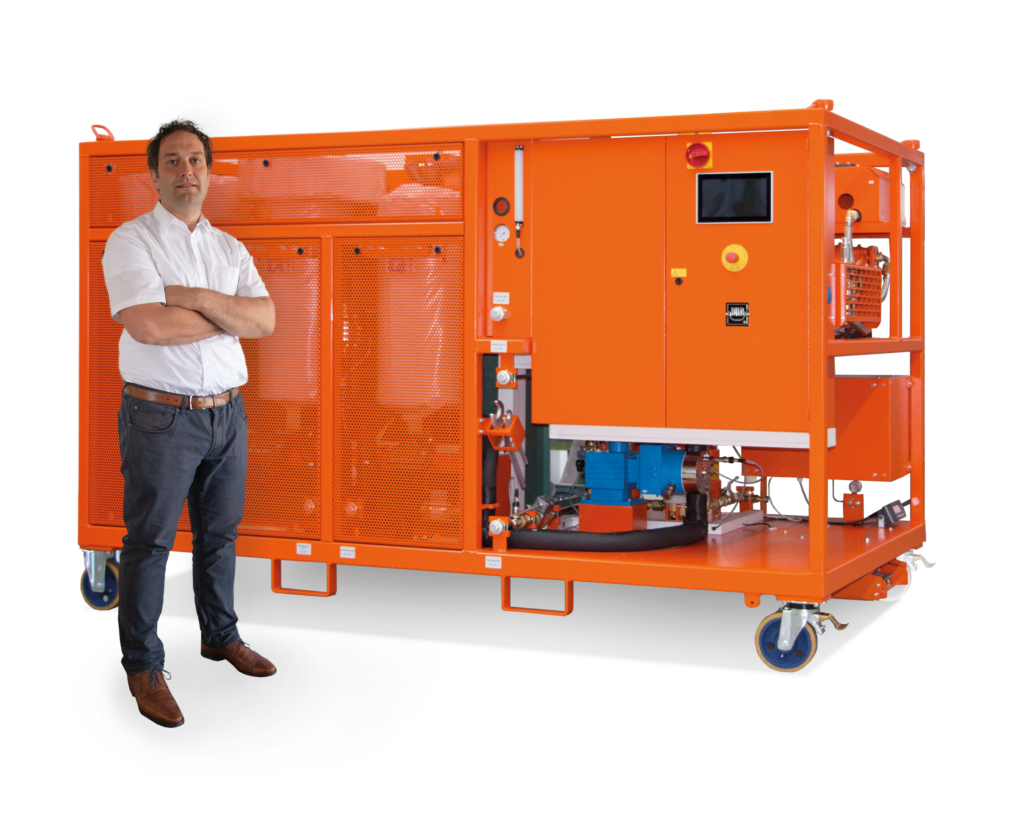 In addition to innovative product solutions, we provide you with comprehensive services generating significant added value for you. For this reason, switchgear manufacturers, energy suppliers and many other companies in important technology markets have had and continue to have, confidence and trust in DILO as a brand.
DILO range of services includes the preparation or reconditioning of used SF6 gas to "DILO Certified Gas", technical support and aftersales services as well as training and certification.
DILO added value
High levels of innovation for the challenges of today and tomorrow
Complete system solutions for the professional handling of gases
Maximum efficiency in all devices, machines and systems
Global availability of a wide range of products and services
"Zero emission concept" for environmentally-friendly gas management with our policy being "ZERO WASTE"
We live up to our responsibility for environmental protection through the quality of our products: DILO devices prevent the emission of SF6 gas into the environment, contributing to a reduction in greenhouse gases and in the process reducing the manufacture of NEW SF6 gas.
Sustainability also defines our own environmental policy.
DILO. Quality and the environment in harmony.
DILO Armaturen und Anlagen GmbH again receives TÜV certification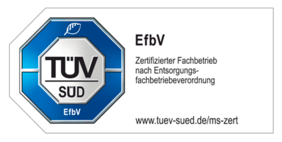 In February 2020, DILO Armaturen und Anlagen GmbH located in 87727 Babenhausen/Bavaria again received official TÜV certification as a waste management company. Our service portfolio also includes SF6 recycling, allowing the reconditioning of used SF6 gas. As a part of our "DILO Certified Gas" range of services, our customers can also obtain gas mixtures according to their own specifications.
What does TÜV certification as a specialized waste management company mean?
The TÜV certificate proves that DILO fulfils all requirements in accordance with § 56 KrWG (= German Recycling Management and Waste Law) in compliance with the German Waste Management Ordinance (EfbV). Our customers can be assured that:
all processes are clearly defined and documented transparently,
fulfillment of objectives is regularly monitored and
the certified specialist company is efficiently and continuously improving.
The receipt of gases (or other waste) by a certified waste management company releases the customer's waste management officer from the obligation to audit waste management companies themselves. Therefore, DILO's unique concept of SF6 reconditioning for reuse is ecologically sensitive as supported by today's society and meets all legal requirements and regulations.
The certificate entitles DILO to use the testing and supervision label and to qualify as a certified waste management company with reference to the certified activities. Supervision must be carried out by an accredited supervision organisation (such as TÜV).
Benefits for DILO customers through TÜV certification
Our customers can purchase recycled gas with the "DILO Certified Gas" seal of quality. Thus, the problem of contaminated SF6 gas (often caused by incorrect handling or inadequate evacuation) no longer exists because contamination with nitrogen, air and/or tetrafluoromethane (CF4) and the resulting deviation from IEC 60480 are eliminated by DILO's procedure. Special benefits are:
reduced costs for SF6 disposal
minimised costs for new SF6 gas
low transport and storage costs
emission-free reconditioning of gas
considerably improved "carbon footprint" through reuse SF6 reconditioning instead of SF6 disposal – if the same quantity is taken back there is no disposal and thus no waste disposal business.
For more details please contact: