Ginlong Technologies(Solis), a global leader in photovoltaic string inverter manufacturing, has been ranked India's No.1 Inverter Supplier of 2021, according to Bridge to India's latest released report 'India Solar Rooftop Map 2021'.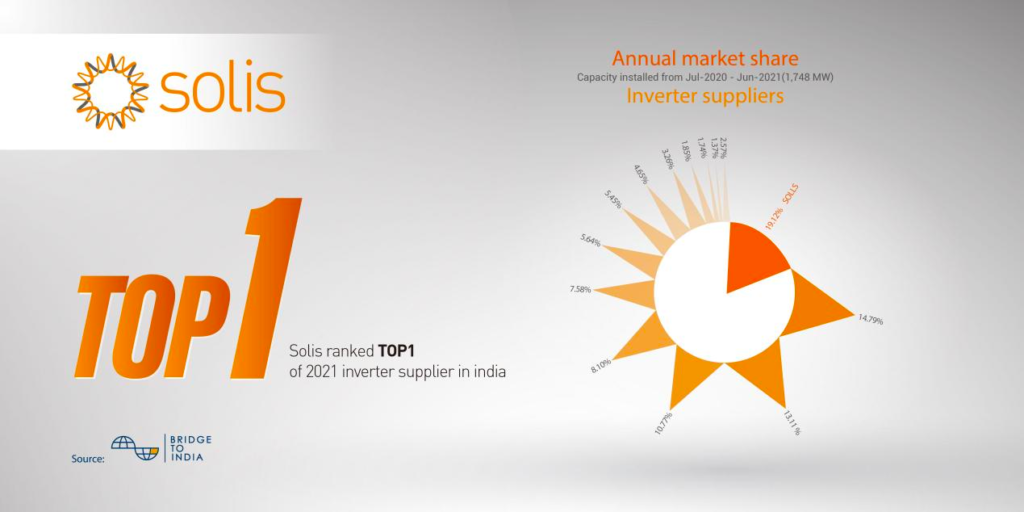 According to the statistics released in the report, Solis has topped the rankings by contributing the highest (19.12%) annual market share capacity installed in the Indian Market from July 2020 to June 2021.
This was achieved despite raw material sourcing issues, demand pressures, volatile upstream pricing, restricted movement of equipment, supply shortages and many other challenges posed by the COVID-19 pandemic.
Being an original equipment manufacturer of grid-tied inverter brands, Solis focuses on product innovation and the development of new technology which reflecting the needs of local markets globally. The Solis brand, has been built on the back of a dedicated and single minded focus on quality.
Today Solis provides inverters to all major customers in India, particularly in the residential sector. The company is developing a solution for industrial applications as well as launching hybrid inverters for use in solar plus storage systems.
"Solis will be further expanding its service in the utility segment by supplying its 255kW string inverter to the Indian Market. We are continuing to focus on developing technology to power the world with clean energy", said Honey Raza, Head of Sales – Solis, India.
"Solis will soon cross the 2GW milestone in India. The milestone, coming just over 5 years since we entered the market, is notable for not just the steady year on year increase, but the acceptance and brand penetration the firm has managed to secure in India," he added.
About Ginlong Technologies
Established in 2005, Ginlong Technologies is one of the most experienced and largest manufacturers of PV string inverters. Presented under the Solis brand, the company's portfolio uses innovative string inverter technology to deliver first-class reliability that has been validated under the most stringent international certifications. Armed with a global supply chain, world-class R&D and manufacturing capabilities, Ginlong optimizes its Solis inverters for each regional market, servicing and supporting its customers with its team of local experts. For more information on how cost-effective Solis delivers value while maximizing reliability for its customers.