India is a strong global dye supplier, accounting for approximately 16% of the world production of dyestuff and dye intermediates. 
Demand for organic chemicals is expected to grow at 9% CAGR from FY19-23, with phenol demand growing at 11%
Alkali chemicals had the largest share in the Chemical industry in India with approximately 69% share in the total production. Production of polymers account for around 59% of total production of basic major petrochemicals
The petrochemical market in India is expected to grow at a CAGR of 10% over the next 5 years to reach $100 bn by 2022
The Indian colorant industry, valued at USD 6.8 bn, exports nearly 75% of its production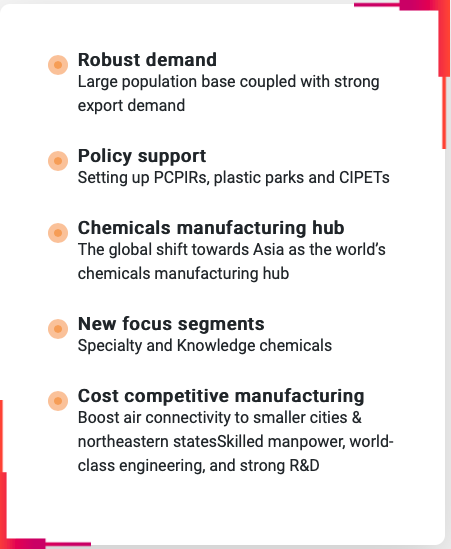 The chemical industry in India is an indispensable part of the economy of the country, for it constitutes around 6% of the country's GDP. Chemicals industry in India is highly diversified, covering more than 80,000 commercial products. It is broadly classified into Basic chemicals, Specialty chemicals, and Agrochemicals.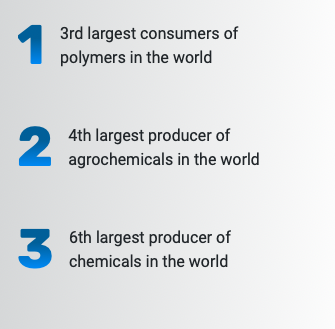 The Indian chemicals industry is projected to reach $304 bn by 2025. India is a strong global dye supplier, accounting for approximately 16% of the world production of dyestuff and dye intermediates. Chemicals industry in India has been de-licensed except for few hazardous chemicals. Upcoming Petroleum, Chemicals and Petrochemicals Investment Regions (PCPIRs) and Plastic parks will provide state-of-the-art infrastructure for Chemicals and Petrochemicals sector.
100% FDI Chemical Industry In India is allowed under the automatic route (except in the case of certain hazardous chemicals).

Source: FDI India