The DoubleS-OTN will first be implemented in healthcare
[Tianjin, China, May 25, 2020] China Mobile Tianjin (Tianjin Mobile) and Huawei have announced the industry's first commercial use of next generation optical transport network (NG OTN) premium private lines in a network for Tianjin Medical University General Hospital.
China's digital economy has seen continual growth and upgrades across numerous industries and 5G applications and cloud services are playing an important role in pushing private lines to offer cloud-network integration and differentiated experience beyond basic network connections. As a primary infrastructure developer, Tianjin Mobile is has acquired a deep knowledge of customer requirements across a range of industries. To meet those requirements for high bandwidth and performance, Tianjin Mobile has built an end-to-end OTN all-optical network with innovative technologies such as Huawei's 200G, OXC, and iMaster NCE.
Now Tianjin Mobile and Huawei have released an all-optical government/enterprise private network to provide world-leading services that are fast and smart for government, finance, healthcare, education, and industrial interconnections. Speed: premium private line, preferential access, plug-and-play end devices, and ultra-fast provisioning; all-optical network, one-hop transmission, and MS-level latency; end-to-end OTN, 10M–100G access, and ultra-high bandwidth.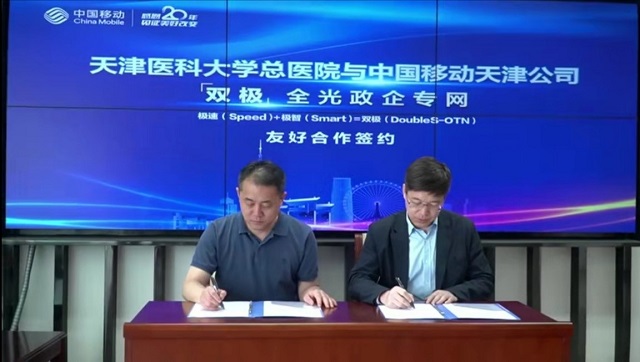 Smart: intelligent, mesh, and 3D network architecture to achieve intelligent and reliable multi-level protection; customer self-service, on-demand bandwidth selection, one-click adjustment, intelligent speed increase, and smart assurance.
Tianjin Mobile has signed a cooperation agreement with Tianjin Medical University General Hospital to provide its high-quality Internet private lines. In addition to offering basic bandwidth, Tianjin Mobile will also provide value-added services such as intelligent speed increase and smart assurance, helping to upgrade E-Clinic services with online diagnosis, treatment, and electronic health records, ensuring smooth communication between doctors and patients.
In the next phase, Tianjin Mobile will work with industry partners including Huawei to further the construction of all-optical OTN networks, innovate industrial applications and quality experience, facilitate the digital and cloud-based transformation in various industries, as well as promote the digital economy as the new driving force in Tianjin.