The Budget goals for FY2022-23 aim to further India's aspirations in Amrit Kaal, as it moves towards its 100th year post independence.
Focus on growth and all-inclusive welfare
Promoting technology-enabled development, energy transition and climate action
Virtuous cycle starting from private investment, crowded in by public capital investment
The Union Budget for FY 2022-23 this year aims to strengthen the infrastructure with its focus on four priorities of:
PM GatiShakti
Inclusive Development
Productivity Enhancement & Investment, Sunrise opportunities, Energy Transition, and Climate Action
Financing of investments
The Productivity Linked Incentive in 14 sectors for achieving the vision of AtmaNirbhar Bharat has received excellent response, with potential to create 60 lakh new jobs, and an additional production of Rs 30 lakh crore during next 5 years.
India's GDP has witnessed robust recovery twice with the past two waves of the pandemic, a testimony to the nation's economic resilience.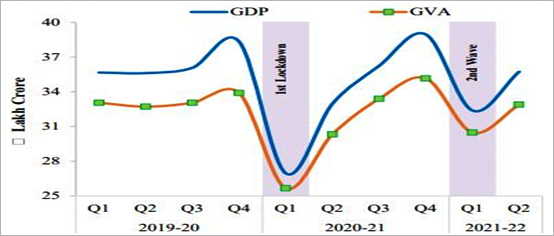 Industry's reaction on budget 2022-23
"Additional allocation of Rs 19,500 crore for PLI for mfg of high-efficiency modules with a priority to fully integrate manufacturing units from polysilicon to solar PV modules is a welcome move for the sector. It will give further impetus to investments in India, generate more employment and pave the way for an Atmanirbhar Bharat. Further comments can be added once more details on the enhanced PLI scheme coverage is known, especially if any incentive has been provided for manufacturers with smaller capacities under the ambit of PLI.
Enhanced financial support for setting up of Distributed Renewable Energy projects in border villages under Vibrant Village Programme is a big relief to such areas, where power availability is an issue. It will help inhabitants improve their livelihood and security with availability of renewable energy power with relevant support from the government."
"The government this year is very clear on its move towards enabling energy transition through provisions for boosting domestic manufacturing of solar power equipment and batteries, in line with India's larger global commitment of tackling climate change. The government's major allocation is towards focusing on the growth of grid-connected energy storage and supporting incentives for green bonds. The budget is very well thought through in terms of enhancing domestic value addition by reducing customs duty on certain critical chemicals namely methanol, acetic acid, and heavy feedstocks for petroleum refining, while duty is being raised on sodium cyanide for which adequate domestic capacity exists. Also, PM Gatishakti and specifically, focus on waterways, ports, roads, and railways, coupled with the proposed unified logistics' interface platform will help improve supply chain efficiency and reduce logistics' costs across sectors".
"This year's budget has opened wide opportunities for the infrastructure and construction industry, with a clear focus on building a modern and world-class infrastructure for India. We welcome the significantly increased allocation to infrastructure capex compared to last year, while the measures to speed up approvals for low cost housing projects and additional allocation to the PM Awas Yojna will together go a long way in delivering housing for all. Finally, we are glad that the government is looking to align the National Infrastructure Pipeline (NIP) with the PM GatiShakti framework, with the larger goal of economic transformation through improved pan-country logistic efficiency.
Overall, the budget has underlined the government's intent to work closely with the infrastructure and real estate industry as it seeks to build a new and modern India."
"The Union Budget has brought the focus back on Bharat. Building further on India's infrastructure requirements will have a tremendous effect on achieving sustainable growth for the economy and will have an exceptional positive social impact.
The transformative approach for economic growth in the infrastructure sector driven by seven engines – roads, railways, airports, ports, mass transport, waterways and logistics infrastructure – is a smart move with an eye towards achieving long-term goals. The announcement regarding aligning the National Infrastructure Pipeline with Gati Shakti Master Plan will certainly give an edge to the Indian economy, encouraging smooth and seamless urban development in the nation. Additionally, the government's continuous investment in expanding the national Highway network by 25,000 km in 2022-23 by mobilizing INR 20,000 crore will also be enormously beneficial for the infrastructure sector."
In this year's budget, the Finance Minister made a couple of announcements around the auto industry that will boost the industry overall, and will also enable us to deliver better. With the reforms coming in play in the automobile industry in India the Battery Swapping Policy on being implemented efficiently will benefit the entire EV ecosystem including manufacturers and charging infrastructure players. As a result of this policy and its appropriate execution, the adoption of EV will see a significant boost in India. The government will also encourage private players to become a part of this new development and its process in setting up adequate infrastructure. While this policy will enable wide-scale adoption of electric vehicles, it will also contribute to achieving net-zero goals of the country.
As a part of the agri-tech industry, I firmly believe that the budget should not only focus on economics but also enable sustainable development to secure future generations. Putting climate action as one of the focus areas of the budget is a mega move from the government. The AgTech sector plays an important role in educating farmers on sustainable modes of agriculture, scaling the operations, and reducing the carbon footprint that are an outcome of the agricultural practices. The announcement towards the launch of sovereign green bonds for projects signals India's strong commitment towards a low carbon economy. It will help to bring down the cost of capital for green projects by attracting new investors and mobilising private capital towards sustainable development. This will further boost our efforts to make agriculture sustainable by helping farmers earn more through adopting sustainable agricultural practices.
Another key point is the adoption of technology-enabled models of agriculture. The need of the hour is to make the sector more efficient, sustainable, profitable, and the farmers more resilient. Revision of agriculture syllabus to include modern agricultural methods; use of Kisan drones for crop assessment, digitisation of land records and spraying of insect pesticides; boosting financial inclusion of farmers through digital modes of payments – all these steps taken by the government will go a long way in agriculture sector achieving its maximum potential while encouraging Indian AgTech startups to strengthen the agri ecosystem from the grassroots level.
The FM has announced a forward looking budget with an impact horizon of 3-4 years. Already struggling travel sector has still not come to pre Covid levels and hence a boost to small players in the sector through extension of ECLG scheme from 50k cr to 5 lakh cr shall help the small operators stay afloat and in turn keep the industry's base strong and intact.
"Start-ups are the next high impact growth drivers for the Indian economy and will promote an Atmanirbhar Bharat. The proposed extension of tax incentives for one more year will help startups at the early stage attract more funding and optimize their working capital. The proposed fund for promoting agri-tech startups and rural enterprises will boost the rural economy. We are excited for India's economic growth this year and looking forward to startups playing a pivotal role"
India has more than 61,400 startups recognized by the DPIIT. The growth in the number of startups and unicorn-startups in the country, exhibits the potential that the startup community brings to the economy. Not just the variety of services and products, but also the contribution of startups to the economy holds a significant place. The provision made for startups, in today's budget announcement, of implementing tax incentives to startups for four years of incorporation is a big step for enabling and encouraging newer startups. This will help startups in attracting more funding, therefore optimizing their working capital and continuing to drive growth for the economy.
Mr. Zafar Imam, CEO, FinShell
In order to promote digital footprints We appreciate the initiatives announced in the budget by the honorable FM. 75 digital banking units by scheduled commercial banks in different districts will enhance banking penetration to the last mile. E passports using embedded chips, futuristic technology is another digital initiative which Govt plans to complete by 2023. Allocation of 48000 cr to PMAY scheme to complete 80 lakh homes will boost the affordable housing sector. The Government also proposed to expand E vidya to 400 channels and establish digital universities. Credit linked guarantee scheme extended till March 2023 will support the MSME sector during these pandemic time. Overall seems to be a futuristic budget where a lot of thrust is given to more digital expansion and to promote start ups and fintech.
"The FY23 Union Budget lays strong impetus on sustainable development. Sustainability has steadfastly become an urgent priority and the proposal to issue sovereign green bonds for building green infrastructure will go a long way in creating a low carbon future and reducing carbon intensity of the economy. This is in line with the government's commitment on climate action at COP 26. The budget also emphasizes on energy efficiency and energy transition for reducing emissions. Saving energy is an important aspect of energy management. Hence, energy efficiency and savings measures will be promoted. This will be done in large commercial buildings through the Energy Service Company (ESCO) business model. It will facilitate capacity building and awareness for energy audits, performance contracts, and common measurement & verification protocol. The proposal of thematic funds for mobilising blended finance with government share capped at 20% will also allow fund mobilization for emerging sectors like digital economy and climate action."