Petrochemicals have played an essential role in fuelling the economic growth of the country as it drives the growth and development of other sectors such as infrastructure, healthcare, agriculture, textiles and consumer durables.
Petrochemicals are derived from various chemical compounds, mainly from hydrocarbons. These hydrocarbons are derived from crude oil and natural gas. Various fractions are produced by distillation of crude oil such as- petroleum gases, naphtha, kerosene and gas oil are the main feed stocks for petrochemical industry. Ethane, propane and natural gas liquids obtained from natural gas are the other important feedstock used in the Petrochemicals industry. The value addition in the petrochemicals industry is higher than most of the other industry sectors.
The Petrochemical industry, which entered in the list of Indian industries in 1970s, registered a rapid growth in the 1980s and 1990s. Petrochemical industry mainly comprises synthetic fibre / yarn, polymers, Synthetic Rubber (elastomers), Synthetic detergent intermediates, performance plastics and plastic processing industry. Today, petrochemical products permeate the entire spectrum of daily use items and cover almost every sphere of life like clothing, housing, construction, furniture, automobiles, household items, agriculture, horticulture, irrigation, packaging, medical appliances, electronics and electrical etc.
According to the estimates of Department of CPC (chemical and petro-chemicals), presently there are eleven naphtha and/or/dual feed cracker complexes in operation with combined ethylene capacity of about 7.05 million tonnes per annum. In addition, there are six aromatic complexes in operation with a combined Xylene capacity of about 5.5 million tonnes. Petrochemicals contribute a minuscule 3 percent in revenue terms, but its share in the company's net profit goes to as high as 17 percent.
As per reports, India is likely to start the operations of 281 petrochemicals projects until 2025, accounting for nearly 34% of the total upcoming petrochemicals project starts in Asia by 2025, according to GlobalData, a leading data and analytics company. This will help meet the demands of the heavy industries.
GlobalData's latest report, 'Global Petrochemicals New-Build and Expansion Projects Outlook, 2021-2025', reveals that out of the 281 projects expected to commence operations in India, polypropylene projects will be 21, and propylene projects will be 16. Ethylene and polyethylene projects will be 15 projects each.
Polypropylene projects will constitute around 7% of all petrochemical projects that will be under process till the year 2025. Among the upcoming polypropylene projects, the Reliance Industries Jamnagar Polypropylene Plant -3 project leads with a production capacity of 5.20 mtpa. The project is expected to start operations in 2025.
As per GlobalData's reports the propylene projects will constitute around 6% of all petrochemical projects and will start in India during the review period. Among the upcoming propylene projects, the Haldia Petrochemicals Kakinada Propylene Plant project leads with a production capacity of 1.6 mtpa. It is expected to start operations in 2024.Domestic industry has made huge investments in creating new capacities for products like Polyethylene and Polypropylene.
The petrochemical industry is currently facing difficulty with pressure on prices and margins. In addition to this, in certain key products like Poly Vinyl Chloride, investment has been severely lagging demand growth due to lack of an appropriate financial structure. These financial hurdles are destabilising the "Make in India" campaign and the vision for India's leadership in manufacturing, thus to address these uncertainties proper fiscal support is vital in order to maintain the financial feasibility of these new investments.
As per reports, as India lacks the availability of cheap natural gas, abundant availability of coal seems to be a favourable option but requires the development of technology to monetise high ash content coal. In the past, imported technologies have proven to be expensive, with stiff competition from China and Middle Eastern countries that have access to cheap natural gas. Carbonylation of methanol is the most widely followed route for acetic acid production and the technology is guarded with four–five licensors reluctant to provide licences outside the existing joint ventures. Though the manufacturing of acetic acid seems to be a lucrative business, import dependency, technology availability and economics of production are the severe challenges which are expected to last longer.
Further, India is amongst the largest importers of mono-ethylene glycol (MEG), importing an average of approximately 800 KT annually. The requirement is driven by the large demand for polyesters. The shortfall in the supply of MEG is expected to be substantial in 2025. Newly incepted petrochemical expansion projects have considered MEG in their product slates, which will reflect in supplies in the mid to long term.
However, reports from FICCI says that even after seven years of the Petrochemical Policy rollout, nothing much has happened and thus FICCI is facilitating review of Petrochemicals policy to make it effective.
Nevertheless, despite few hurdles, India is gearing up for a transformation through 2030 driven by a significant expansion of its intermediates' production capacity, and initiatives taken by the industry and policy makers to reduce the sector's carbon and environmental footprint. As per industry reports, petrochemical projects worth approximately USD 16 billion are under implementation and projects worth around USD 100 billion have been announced so far. According to experts $100 billion worth of investment is expected to boost domestic production by 2030 and help bridge India's supply deficit in petrochemical intermediates.
Some of the projects like HMEL in Bhatinda and HPCL in Barmer are expected to be completed by 2022 and 2022-23, respectively. Nayara's mega petrochemical project in Vadinar is expected to be completed by 2024-25. Several other projects are also expected to be completed in near future. The investments, which include public and private projects in various stages of implementation will make petrochemicals the biggest driver of India's crude oil demand growth. The recent two most important policies to effectively drive Indian petrochemicals' transition to a more sustainable future are coherent single-use plastic directives and extended producer responsibility policies to ensure everyone is held accountable. Experts feel that India's expanding renewable energy sources to power the petrochemical sector could significantly decarbonize the sector by shifting away from fossil fuels in cogeneration power plants.
The GoI had launched the Petroleum, Chemicals and Petrochemicals Investment Region (PCPIR) policy in April 2007 to promote investment in the CPC sector and make India a manufacturing hub for both domestic and international markets.
The Government is taking vigorous steps in improving the previous PCPIR policy. There is a prime focus on the completion of all the existing projects and streamlining the processes to smoothen the roadblocks. The Central Government has decided to take over and lead the development of PCPIRs. The proposed new PCPIR policy will be implemented between 2020–35 and is expected to attract a combined investment of over USD 420 billion. As per the draft policy, the size requirement of a PCPIR is being reduced from 250 sq. km to 50 sq. km, with specific cluster integration strategy. The provisions for viability gap funding of 20% are being planned for both infrastructure projects and smart utilities. Additional funding for project design and management consultancy is also being provisioned. The PCPIRs will be equipped with smart utilities such as common effluent treatment plants, integrated solid waste management projects and environmental monitoring systems.
By 2030, IOC plans is to have at least 15 percent of crude oil converted into petrochemicals where margins are higher than crude oil. The new refineries will help reduce carbon emissions besides increasing refining capacity and margins. Expansions are also taking place at its Guwahati refineries. Old plants are being renovated to improve its efficiency to produce high-value petrochemical products. All these refinery expansions are estimated for a capital investment of Rs 1 lakh crore and commence commercial production in next few years.
IOC is also undertaking a high-value diversification plan to produce polypropylene, styrene monomer projects at Panipat and the Lube Integration project at Gujarat refinery. The diversification of the petrochemical business will help IOC to de-risk its business and bring more economic value to the company going forward.
Plastic Manufacturing In India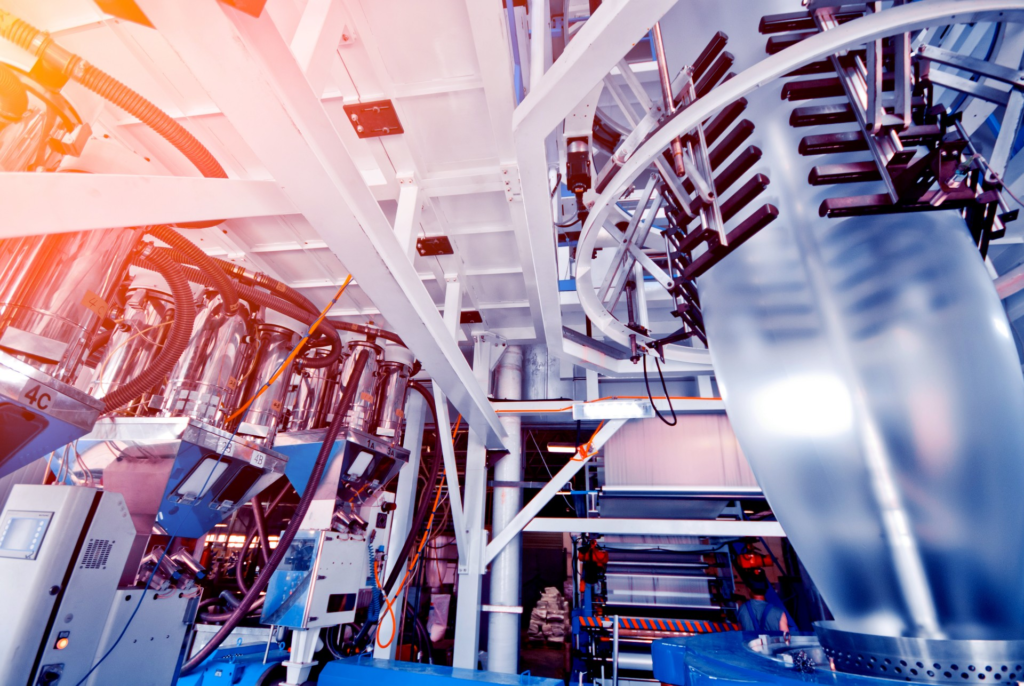 There are more than 50,000 processing units in organized and unorganized sector (around 33,500 are in organized segment) having 1, 53,500 Plastics processing machines for producing a diverse range of plastic products. The processing capacity is estimated to be 45.1 Million tonnes per annum. This processing capacity had been growing @ 8.8% CAGR during last 4 years and the processing industry is expected to invest $10 billion during the next 5 years to enhance the capacity to 62.4 Million Ton and 86 Million Ton by the year 2027-28.
Per capita plastic consumption in India is estimated to be at 11 kgs as compared to 46 kgs in China 65 Kgs in Europe and above 100 kgs in USA. This signifies huge potential for future However, this sector is also stigmatised basically for reasons of improper plastic waste. Therefore, recently announced proposal to phase out single-use plastics from 2022 is a boost for the development of a domestic recycled plastics market.
The annual consumption of virgin grade polymers for the year 2017-18 was 15.9 Million Tonnes. Demand for Plastics in India is currently growing at an average rate of 8.9% for the past 4 years (2013-14 to 2017-18). It is expected to reach 24 Million Ton by 2022-23 and 35 Million Ton by 2027-28.
The area that will boost the for the plastic industry include modern farming through plasticulture, packaging for processed foods and consumer non-durables, better performing plastics for automobiles and consumer durables, infrastructure development through cost effective plastics and innovative products for telecommunications and information technology services sector.
The government aims at setting up of need based plastic parks, an ecosystem with state-of-the-art infrastructure and enabling common facilities through cluster development approach, to consolidate and synergize the capacities of the domestic downstream Plastic Processing Industry. The larger objective of the scheme is to contribute to the economy by increasing investment, production, export in the sector and also generation of employment.
Under the scheme, Government of India provides grant funding up to 50% of the project cost, subject to a ceiling of Rs. 40 crore per project. The remaining project cost is funded by the State Government or State Industrial Development Corporation or similar agencies of State Government, beneficiary industries and loan from financial institutions. The scheme aims at improving the existing petrochemicals technology and research in the country and to promote development of new applications of polymers and plastics.
Current low per capita consumption level of plastic products as compared to developed countries per capita consumption suggests that India offers a huge opportunity over long term. Government is encouraging manufacturers for indigenous production, better R&D and innovation to make India a preferred destination for investment worldwide and to reduce imports.
The plastic industry in India made a promising beginning in 1957 with the production of polystyrene. Subsequently, significant progress has been made, and the industry has grown and diversified rapidly. The industry spans the country and hosts more than 2,000 exporters. It employs about 4 million people and comprises more than 30,000 processing units, 85-90% of which are small and medium-sized enterprises.
It is necessary that plastic manufactures uses good quality machinery to compete globally. As per the statement of Commerce & Industry minister, Piyush Goyal while reviewing the functioning of the plastic industry, dependence on using second hand machinery is not the way forward and that huge potential exists to increase the manufacturing of plastic machinery in India and Emphasising said that the plastic industry is one of the biggest generator of employment in the country
Goyal asked the plastic industry participants to focus on quality. The minister added that dependence on using second hand machinery is not the way forward. He further specified that the Bureau of Indian Standards would set up labs wherever needed to ensure best possible testing of plastic materials. He emphasised on the need of good quality machinery as substandard machinery would only produce substandard products. In order to compete globally, there is a need to invest in world class machinery for all kinds of production.
Plastic industry is making significant contribution to the economic development and growth of various key sectors in the country such as: automotive, construction, electronics, healthcare, textiles, and FMCG etc. India is currently net importer of PolyEthylene (PE), however with the commissioning of IOCL plant at Panipat, the imports are expected to go down significantly. India observes significant regional diversity in consumption of plastics with Western India accounting for 47%, Northern India for 23% and Southern India for 21%. Bulk of the consumption in Northern India is from end use industries of Auto, packaging (including bulk packaging), plasticulture applications, electronic appliances etc. which are concentrated mostly in UP and Delhi- NCR (>50%).
However, plastic processing in other parts like Rajasthan, Punjab, Haryana, Uttarakhand, J&K and Himachal Pradesh are expected to grow based on increased availability of feedstock and higher focus on manufacturing sectors. Western India has traditionally been the largest consumer of plastics accounting for almost 47% of the total consumption. Western region comprise of Maharashtra, Gujarat, the union territories of Daman and Diu & Dadra and Nagar Haveli along with Madhya Pradesh and Chhattisgarh. The consumption in Northern India is low in comparison to Western India primarily due to lack of availability of raw material.
Some of the challenges especially the environmental challenge associated with plastics can be overcome by recycling and reuse of plastics. This could be a foremost step towards fostering innovation and sustainability. Increased awareness through help of industry groups and Government could help address some of these challenges.
The increasing demographic dividend, urbanization, growing income levels all support a strong case of increase in both demand and supply of petrochemicals in India. Plastics are the major product that account for bulk of the Indian petrochemical industry.
India has significant production capacity of Plastics. Polyethylene (PE) continues to be the largest commodity with LLDPE experiencing the fastest growth in this category. Current polymer capacities are mostly under-utilized with an operating efficiency varying from 66%-86%, expect for PVC, where production matches with capacity,
Through technology innovation and increase in production capacity, Indian producers are targeting to achieve 3% of the global plastics and polymers market by 2025. The government are rolling out supportive government policies and use of polymers to replace traditional packaging in India.
A consumption trend has been observed, which has led to an increase in the demand for packaged goods which has further led to an increase in the demand for plastic packaging. The Lighter, The Better. Owing to the light weight and durability factor, a trend of shifting from metal components to polymer based parts and components has been observed. Infrastructure Building The government, having realized the need for an integrated supply chain, is currently working on establishing Plastic Parks. At present, The Centre has so far approved eight plastic parks that are at various stages of completion. Assam, Madhya Pradesh (two parks), Odisha, Jharkhand, Tamil Nadu, Uttarakhand and Chhattisgarh. They are expected to provide an ecosystem to synergize production capacities with modernized infrastructure.
Industries using plastics products has been on a growth trajectory owing to the in-country and export demand. Several industries such as automotive, aerospace and packaging (feeder industry for plastic products) have shown sharp growth rates in the past few years. India is also poised to become the fastest growing consumer market. It is expected that this will create further demand for plastic products. Supply chain disruptions in China due to tighter environment norms have led to an uncertainty in the Chinese market. Several International players have shifted their sourcing destination to India. This has created opportunities for Indian plastic industry.
Conclusion:
As the Indian economic fundamentals are robust and continue to grow amidst uncertainties in global economy, there are huge growth opportunities in India for petrochemicals and plastics. Planned Infrastructure projects are driving growth in India and these are competently supported by the current and upcoming domestic capacities. Considering 2030 mission the business leaders in India will have to focus on sustainability.
India exported plastics raw material worth US$ 352.04 million in July 2021, and the export during April 2021 to July 2021 was US$ 1.57 billion.
The total plastics raw material export during April 2021 to August 2021 was US$ 1.57 billion.
In FY21, India exported plastics raw material worth US$ 3.29 billion.
The total plastic and linoleum export during April 2021 to August 2021 was US$ 4.15 billion and for the month of August 2021, it was US$ 754.37 million.
The total plastic and linoleum export in FY21 was US$ 7.45 billion and for the month of March 2021, it was US$ 719.15 million.
In FY20, plastic and linoleum export from India stood at US$ 7.55 billion.
In FY21 export of plastic sheets, films, and plates stood at US$ 1.53 billion and packaging material was US$ 863.62 million.
The Indian plastics industry produces and export a wide range of raw materials, plastic-moulded extruded goods, polyester films, moulded/ soft luggage items, writing instruments, plastic woven sacks and bags, polyvinyl chloride (PVC), leather cloth and sheeting, packaging, consumer goods, sanitary fittings, electrical accessories, laboratory/ medical surgical ware, tarpaulins, laminates, fishnets, travel ware, and others.
The Indian plastics industry offer excellent potential in terms of capacity, infrastructure, and skilled manpower. It is supported by many polymer producers, plastic process machinery and mould manufacturers in the country.
Among the industry's major strengths is the availability of raw materials in the country. Thus, plastic processors do not have to depend on import. These raw materials, including polypropylene, high-density polyethylene, low-density polyethylene, and PVC, are manufactured domestically.