The global food additives market reached a value of US$ 48.7 Billion in 2019. Food additives refer to various edible substances that are added to food products to improve their color, appearance, texture and shelf-life. Edible colors, flavors, enzymes, hydrocolloids and preservatives are some of the most commonly available types of food additives that can be produced artificially or derived from natural sources, such as plants, animals and minerals. They are usually added to products, such as baked goods, desserts, soups, sauces and baby food to prevent microbial growth and contamination, while increasing the overall shelf-life.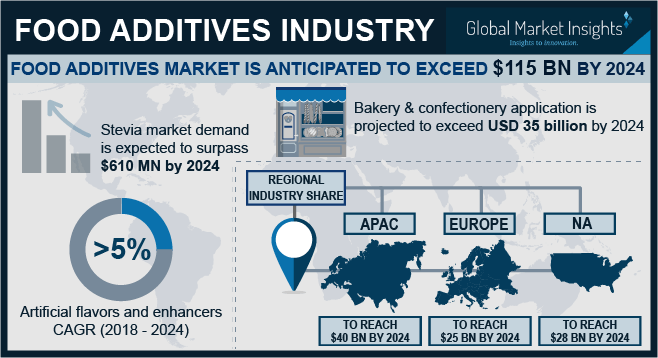 The growing food and beverages industry, along with rapid urbanization across the globe, represent as the key factors driving the growth of the market. In line with this, changing dietary preferences and hectic schedules of the consumers have led to the rising demand for convenience food products that use food additives as a key ingredient. Furthermore, widespread adoption of organic products has further enhanced the demand for food additives manufactured using natural sources. Resulting from the rising health consciousness, consumers are opting for organic preservatives, flavoring agents, colorants, stevia-based sweeteners and extracts that have no adverse effects on the health. Additionally, the growing number of quick-service restaurants (QSRs) and emerging café culture, especially in the developing nations, are also creating a positive impact on the market. Other factors, including the launch of innovative product variants in numerous flavors, advancements in the processing technologies and extensive research and development (R&D) activities, are projected to drive the market further. Looking forward, the publisher expects the market to exhibit moderate growth during 2020-2025.
Answer these questions and our editor team will evaluate your answers and will take it ahead for publication. Send your answers on editor@industrialoutlook.in
What are the various stages in the value chain of the industry?
What are the key driving factors and challenges in the industry?