Condition-based monitoring (CbM) is defined as a predictive maintenance strategy that continuously monitors the condition of assets using different types of sensors and uses the data extracted from sensors to monitor assets in real time. The collected data can help manufacturers increase throughput and asset utilization by reducing maintenance costs and asset downtime. CbM can be used to establish trends, predict failure, calculate the lifetime of an asset, and increase safety in manufacturing plants.
Analog Devices' deep domain knowledge across sensing, signal processing, communications, power management, and system design considerations, combined with our AI sensing and interpreting platform at the edge, enables our customers to deploy new condition monitoring solutions faster and extract more value, with access to higher quality data and insights. ADI's complete, system-level solutions provide the technology and insights to create, new, high value, predictive maintenance service offerings for deployed equipment.
Condition-Based Monitoring, Sensing to AI-Enabling Actionable Insights
Learn about ADI's condition-based monitoring technologies and solutions including MEMS vibration and shock, data acquisition, wired and wireless communications, and AI at the edge.
Condition-Based Monitoring Benefits
Real-time, continuous, condition-based monitoring and predictive maintenance solutions are increasing in importance as manufacturers look to increase throughput and asset utilization by reducing maintenance costs and asset downtime. Given that unscheduled downtime can amount to nearly a quarter of total manufacturing costs, predictive maintenance solutions have the potential to unlock significant cost savings and drive productivity improvements.
Extended Equipment Lifespans

Real-time monitoring of assets extends their lifetime by ensuring they operate within the manufacturer's specification.
Reduce Maintenance Costs

Real-time monitoring of an asset's health reduces maintenance costs by scheduling servicing based on the current health of the assets and not just based on a time interval.
Increase Throughput

Condition monitoring increase manufacturing throughput by reducing maintenance downtime and unplanned asset downtime.
Reduce Asset Downtime
By monitoring the asset health in real-time unplanned asset downtime can be eliminated.
CbM Development Platforms Accelerate Time to Market
Developing accurate, reliable condition monitoring solutions for industrial assets requires a combination of technologies and design considerations to capture and convert critical signals into actionable insights. Our comprehensive portfolio of technologies and platforms include:
Sensor and Signal Chain Design
ADI's high performance, precision sensing solutions including MEMS inertial, temperature, and magnetic field, along with supporting signal chains, provide accurate and reliable data.
Embedded Software Design
Our open-source, embedded software carefully samples and processes signals to ensure sensor data is optimized for critical decision making.
Algorithms and Insights
Real-time anomaly and event detection algorithms enhance condition-based monitoring solutions and provide a deeper understanding of overall machine health, helping you make actionable insights.
Mechanical System Design
Optimized mechanical mounting for condition monitoring solutions ensures that early defect signatures can be extracted from the sensor solution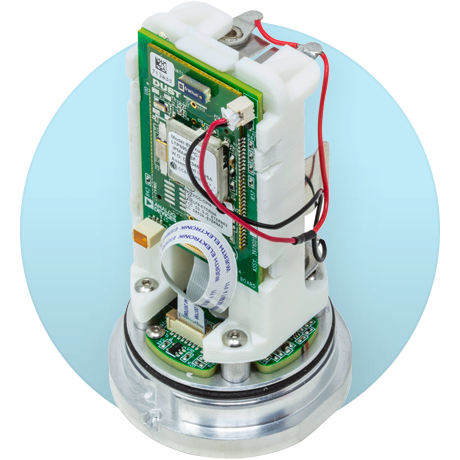 Voyager 3 Wireless Vibration Monitoring Platform
Wireless Platform
MEMS-based wireless vibration monitoring kit for accelerating asset monitoring and solution development.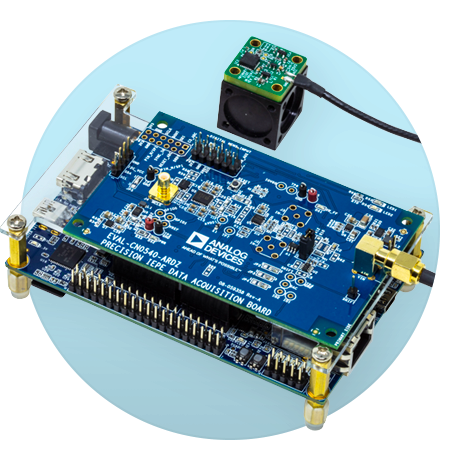 Condition-Based Monitoring (CbM) Development Platform
EVAL-CN0549
Provides high quality IEPE-compliant sensor data to accelerate condition-based monitoring algorithm development. Quickly stream high quality MEMS vibration sensor data directly into popular data analysis tools such as TensorFlow® and MATLAB®.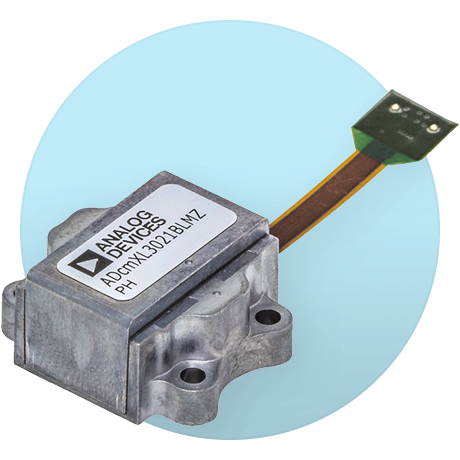 ADcmXL3021
Industrial grade, wideband, low noise triaxial vibration sensor with built-in signal processing for vibration data analysis.