HARTING's Connectivity+ solutions are an important element in energy transformation. Besides the worldwide need to optimise sustainability, HARTING is responding to additional challenges from its customers. Demographic change is one of them. The shortage of specialists and skills associated with this change can be countered by making the installation of electrical equipment as simple and safe as possible. As the centrepiece of this year's HMI (Hannover Trade Fair for Industry), HARTING is presenting its Han® ORV3, a power connector for data centres offering the perfect balance between standardization and the highest degree of flexibility. Complexity is reduced as is the total cost of ownership. HARTING is expanding the greatest variety of connection technologies on the market to include its push-in technology requiring no tools at all. Assembly times in the field are reduced by up to 30%. Human resources are saved.
Fast on-site termination
HARTING is offering the greatest variety of connection technologies on the market. Depending on requirements, an intelligent combination of different technologies delivers the best results. The push-in connection technology now extends this portfolio, reducing the assembly time for installing connectors by up to 30 %.
The result of this technology is simple handling of components during maintenance work in environments with limited room for manoeuvre such as in wind turbines. This connection technology is particularly well suited to applications where a high degree of flexibility is required, such as when changing tools on machines. Thanks to push-in, this can be done simply, quickly and without the need for tools.
The connection technology behind the Han® Push-In protected modules DD/E/EE/C/CC represents a refinement of the cage clamp springs which are particularly well suited to field termination due to their speed and ease of use. With push-in technology, the stranded wire for the connection can be inserted directly into the contact chambers, and an internal clamp spring ensures high-strength contact. If ferrules are used, the connection can be established completely without tools. In the case of stripped stranded wires, all you need for installation is a screwdriver.
The advantages of Han® push-in connection technology at a glance:
Up to 30 % less assembly time with direct insertion of the conductor into the contact chamber
Easy handling due to tool-less termination
Cost savings compared to alternative termination technologies
Maximal flexibility – as termination can be made for ferrules, stranded wires and solid conductors
Plug compatibility with identical products with other termination technologies
Han® ORV3 – sustainable interface for IT infrastructure
The global demand for digitalisation infrastructure is growing rapidly. Businesses and consumers have increased their reliance on remote computing, apps, and the Internet of Things (IoT) at a remarkable speed. Society has become significantly more dependent on tasks which require data centres for their accomplishment. Data centres now form the backbone to everyday operations in all sectors. It's therefore essential that IT infrastructure for data centres is readily available, and any system failures are repaired quickly.
Open Compute Project (OCP)
The Open Compute Project (OCP) focuses on redesigning hardware for IT infrastructures. The goal of the working group is to make data centres more efficient, more flexible and more quickly scalable. The project is based on an open exchange of ideas, specifications and other intellectual property in order to push innovation to its limits and reduce the complexity of technical components.
In a data centre, rack Power Distribution Units (rPDUs) provide power to IT equipment. A group of the OCP initiative to which HARTING belongs as a specialist and technical partner, is focusing on the standardisation of racks and their easy integration into the infrastructure of data centres. Joint specifications for "power shelf" input connectors represent an important step. As part of standardisation, HARTING has invested significant know-how in the specification of the "ORV3 OCP Input Power Connector".
Improving scalability, lowering total cost of ownership (TCO)
With the Han® ORV3, HARTING for the first time offers an OCP-compliant AC connector, which is also available as complete power shelf v3 rack cable assemblies. Shallower rack systems enable a more compact design for the entire infrastructure. As a result, data centres can significantly increase their productivity within a given footprint. HARTING's solution thus supports the Open Compute Project's goal of optimising efficiency in the construction and scaling of data centres.
The Han® ORV3 for rack systems strikes a balance between standardisation requirements and the goal of achieving as much flexibility as possible in the configuration of cable assemblies for different current and voltage levels. The Han® ORV3 component dispenses with complexity, as it consists of only a few part numbers. This enables high availability and, in cases of rack unit failures, low average repair times, thanks to the open ORV3 standard. Total cost of ownership (TCO) is sustainably reduced.
The advantages of the Han® ORV3 at a glance:
Up to 50 % less installation space by comparison with traditional rack system solutions
Fast scalability of data centres through the systematic modularisation of rack systems
Easy servicing for the large numbers of components used in data centres
Reduction in complexity through minimisation of part numbers (SKUs) thanks to OCP conformity (Open Source System)
Fast configuration for different current and voltage requirements – also thanks to easy-to-use jumpers
Safe installation thanks to electric shock-protected contacts
Increased flexibility during installation as a result of different termination technologies: PCB and Crimp
Additional time savings through use in pre-assembled cabling solutions for power distribution from one single source

The Han® ORV3 for data centres offers a maximum balance between standardisation and flexibility.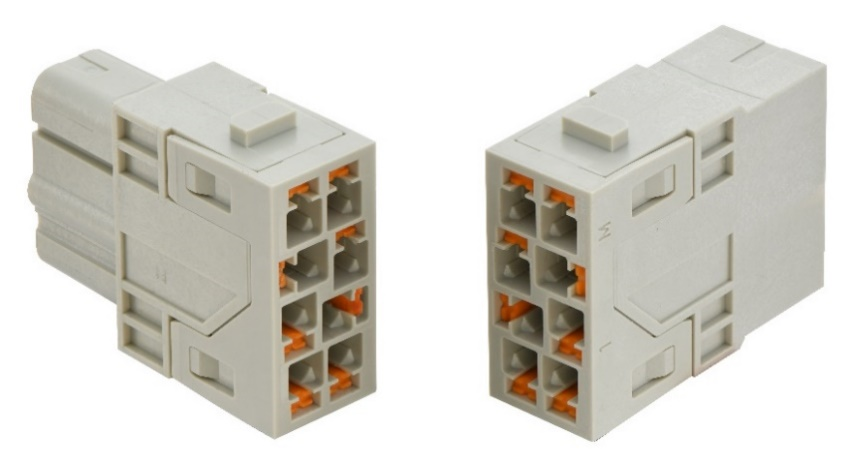 With the Han® Push-In, users reduce assembly times by up to 30 %.
About HARTING:
The HARTING Technology Group is a leading global supplier of industrial connectivity for the three lifelines "Data", "Signal" and "Power" with 14 production facilities and subsidiaries in 44 countries. The company also manufactures checkout zones for the retail trade, electromagnetic actuators for automotive and industrial series production, charging equipment for electric vehicles, as well as hardware and software for customers and applications in automation technology, mechanical and plant engineering, robotics and the transportation sector, among others. Around 6,500 employees generated a turnover of 1,059 million euros in 2021/22.