Overview:
Switchgears are basically termed as the combination of fuses, switches, and circuit breakers in an electric power system. It is used to protect, isolate as well as control the electrical devices. It can be directly connected to the power supply. High voltage switchgear was invented in the 19th century to operate the electrical machines as well as motors. The placement of switchgears depends on the area of installation. In a substation, these switchgears are placed on both HV and LV side of the voltages of a power transformer. In case of industries, the switchgear, and the transformer are placed in a single unit housing and is termed as USS i.e Unitized substation.
As per a research conducted worldwide, the switchgear market is estimated to attain a market value of $152.5 billion by the year 2029.
The gas insulated switchgear market can broadly be categorized into following categories:
1) Insulation Type:
2) Installation Location:
3) Voltage Rating:
Up to 36 kV
Between 36 kV and 72.5 kV
Between 72.5 kV and 220 kV
Above 220 kV
4) End User Application:
Power Transmission Utility
Power Generation Utility
Power Distribution Utility
Railways & Metros
Industries & OEM
Commercial
Different voltage rating switchgear have different applications which are as follows.
Low voltage: Mostly air insulated technology is used.
Medium Voltage: Traditionally air insulated switchgears were used. Gas insulated switchgear is the latest technology in addition.
High and Extra high voltage: In this range, air insulated and gas insulated switchgear are the only options. In open air substation, air insulated switchgear is preferred and for indoor substations, users go in for GIS.
Gas insulated switchgear is a device enclosed in a metal enclosure consisting of different high voltage components like disconnectors as well as circuit-breakers. These high voltage switchgears can easily be operated in limited space where the area availability is very restricted like it can be used in the city building extensions, on offshore platforms, on roofs, and indifferent plants like industrial as well as hydropower.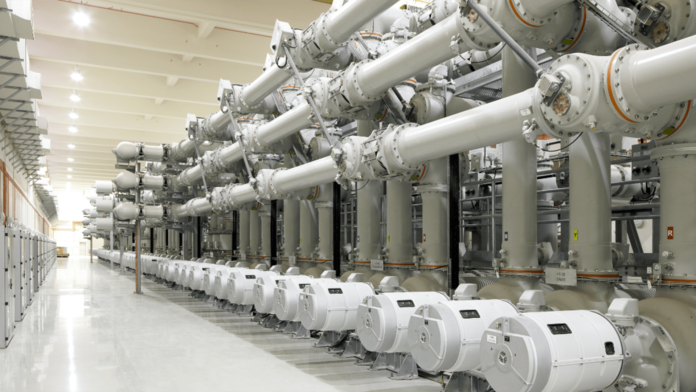 Gas Insulated Switchgear are available in 12kV to 800kV systems. These switchgears are very compact in size where all the components can be brought together in an extremely restricted area by enclosing through the gas-tight metal area and SF6 gas can be used as insulation among existing parts of the devices & earthed metal enclosure. The insulated switchgear like SF6 plays a key role in establishing an electrical substation in a restricted area.
Electrical substation installed at a load centre is an economical solution in power utilities. When an electrical substation is installed at a load centre, it helps to improve the voltage regulation due to short length of feeders. But these electrical substation requires lot of space which is difficult to find at main load centre.
Gas insulated switchgear are compact size devices and can be installed in congested space easily. These GIS components of a substation includes the following:
Bus Bars
Circuit Breakers
Earthing switches
Voltage transformers
Current transformers
Surge arresters or lightning arrestors
Electrical isolators
The GIS have been categorized into outdoor as well as indoor segment. An indoor gas-insulated switchgear is generally of metal-clad type. In this category, all live parts are completely enclosed in an earthed metal casing. The indoor type of gas-insulated switchgears is commonly used in medium-voltage applications where the enclosure type is suitable for indoor environments. Most of the indoor gas-insulated switchgears are used in industries and commercial applications for power stability, where the substations are installed at a medium voltage. Thus, an uninterrupted power supply is a key factor driving the demand for indoor gas-insulated switchgears.
When these Gas insulated switchgears are installed in a substation these are termed as Gas insulated metal enclosed substation or GIMES. This technology was discovered 30 years ago and has been used in the power utility sector since then.
In case of medium voltage GIS, SF6 is used for insulation purpose while vacuum is used for interruption purpose. However SF6 gas can be used for insulation and interruption in many medium voltages GIS by keeping the pressures different for both applications. When SF6 gas pressure is below 2.5 bar it is used for insulation purpose while when it above 5-7 bar it is used for interruption purpose.
In case of high voltage GIS above rating of 72.5 kV, SF6 is used for both insulation and interruption as well because for high voltage vacuum technology is not available. Depending on the constructional features, the GIS can be available into following categories:
In case of Isolated phase GIS, each phase of the bay is assembled separately. For each phase, one pole of circuit breaker, a single pole of electrical isolator, and one phase assembly of the current transformer are assembled together. The bay width of this type of GIS is larger as compared to other gas insulated switchgear systems.
In the case of Integrated 3 Phase GIS all three phases of circuit breaker, 3 phases of disconnectors and three phase current transformer are enclosed in an individual metal enclosure reducing the size of this module by one third of the isolated phase GIS. The arrangement forms a three phase module for the element.
Hybrid GIS System is a combination of isolated phase and three phase common elements. Due to the three phase common bus bar system the connection from the bus bar is simplified. The isolated phase equipment helps to prevent phase to phase faults. This is an optimum design considering which is best suitable for both space requirement and maintenance facility.
Compact GIS: In this GIS or gas insulated switchgear system, one functional element is enclosed in a single metal enclosure. Such as, in some designs, a three phase circuit breaker, current transformer, earth switches, even other feeder elements are covered together in a single metal capsule.
Highly Integrated System: This design is the latest design in addition, where total substation equipment are enclosed together in single enclosure housing. As it is a single solution, it is best suitable for outdoor substation. This equipment is the only substitute of a total outdoor switchyard.
The switchgear offers higher flexibility and reliability when compared to other solutions. It is best suitable for indoor locations at substation as well as underground locations.
These switchgear are compact in size and can be applied to any type of bus bar with a very low operating cost and less maintenance cost.
Gas insulated switchgear (GIS) is a compact form of switchgear. Because of the use of SF6 (sodium hexafluoride) insulation, the size of the switchgear reduces drastically. This product is normally used in medium and high voltage applications.
GIS is more safe, compact and maintenance-free as compared to AIS. The longevity of GIS is also higher than AIS. In GIS most of the current-carrying and live components are sealed in SF6. Constant atmospheric conditions in the sealed tank improve the performance of switchgear.
This category of switchgear are best suitable in Power transmission, Industrial complexes, Railways, Incorporation of renewable power generation units toward the grid, Preferred in large towns because the less availability of space in the towns, Underground substations, Substations on sea otherwise lake, Terminal substations based on HVDC transmission system.
The global gas-insulated switchgear market is projected to grow from USD 16.9 billion in 2020 to USD 26.5 billion by 2025, at a CAGR of 9.5%. The factors driving market growth are the growing investments in renewable energy and government initiatives to reduce carbon emissions along with the expansion of electrical grids due to the growing industrialization and urbanisation.

Fig: 2020-e: Estimated Global growth rate of GIS 2020, 2025-p: Estimated Global growth rate of GIS by 2025
Asia Pacific region is expected to dominate the global gas-insulated switchgear market during the forecast period. The growth of this market can be attributed to the growing demand for power in developing countries, such as China and India, and established economies, such as Japan and China. Growing power requirements, along with the upgradation of the aging electrical infrastructure, are expected to result in an increase in the number of substations.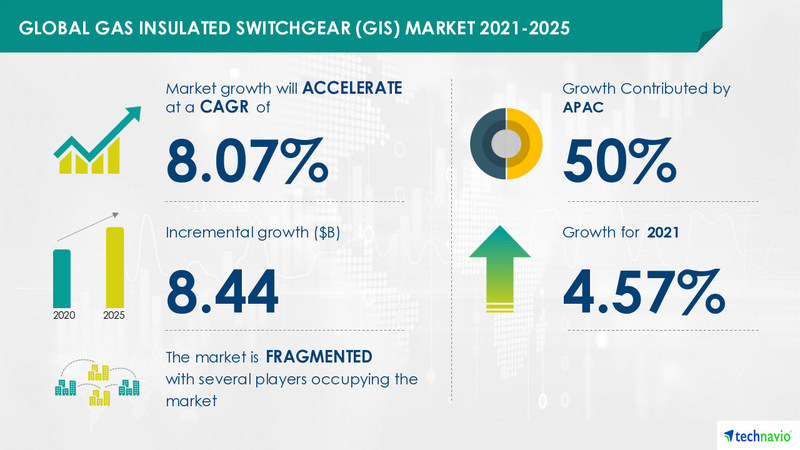 The power utility market can be segmented into power transmission, power generation, power distribution, railways & metros, industrial & OEMs, and commercial. It is expected that the transmission segment is one of the largest market for switchgears. This is because of the growing power requirements due to rising urbanization along with a growing population, resulting in an increase in the transmission network across the world. A growing transmission network will result in the expansion of the transmission network, which will lead to an increase in the number of substations, which is then expected to boost the demand for gas-insulated switchgears. The gas-insulated switchgear market, by insulation type, has been segmented into SF6, and SF6-free. The SF6 segment is estimated to hold the largest share during the forecast period.
Conclusion:
The switchgear industry is one of the crucial industries of the Indian power sector. It is expected that the switchgear sector will show a decent growth in coming times due to growing power requirement in upcoming industries and rapid electrification. Technology plays a very crucial role for this sector. The challenges in GIS manufacturing can be taken care by properly monitoring 3 stages of product development: Design, Manufacturing, Erection & Comissioning. Design is the most critical aspect of GIS. Multinational companies are major players in the switchgear industry currently as they have access to source technology. Very few companies in India have developed GIS designs. One of the major shortcomings in GIS development in India are lack of designing ability and manufacturing skills; and inadequacies of type-testing laboratories and local testing facilities.
However, in upcoming years, many Indian companies are expected to upgrade their technologies and develop switchgear products to serve the rapidly-growing power industry. Space is the biggest constraint in India. Safety, maintenance and downtime are the key parameters for distribution. All utilities and industries are looking for safe and maintenance-free products. After installation of the GIS cost of maintenance and cost of production loss due no power has dropped drastically. GIS are best suitable for application where uninterrupted power supply is required.