The transport infrastructure sector is the fastest expanding component of the country's infrastructure sector. India has the one of largest road networks across the world, spanning over a total of 5.5 million km.
India Compactor Market is expected to witness significant growth over the coming years on account of several upcoming projects such as the expansion of public infrastructure, the establishment of new industries as well as a growing number of small and medium enterprises (SME's) in the country. However, the Indian construction and infrastructure sector is likely witnessing a slowdown in the first three quarters of 2020, mainly due to the outbreak of the COVID-19 virus, which is having a negative impact on the overall economy and would act as a hurdle in the growth of India compactor market in the near term considering the current market response. Recently we have noticed a slowdown in the construction industry which has directly impacted equipment demants in the market. Few months before the government of India has come up with "Vision 2030" initiative aiming to be a $5 trillion economy by 2025 and $10 trillion economy by 2030, the foremost dimension of achieving this vision is to build physical infrastructures such as next-generation roads, railway, seaport, airports, urban transport, and inland waterways. The government of India and Invest India have come up with "India Investment Grid" (IIG) aiming to provide different investment options to global investors in 5000 projects from across the 36 states and union territories. Such initiatives would create ample demand for compactor equipment in the Indian market.
India has the second largest road network in the world, spanning a total of 5.89 million kilometres (kms). This road network transports 64.5 per cent of all goods in the country and 90 per cent of India's total passenger traffic uses the road network to commute. Road transportation has gradually increased over the years with improvement in connectivity between cities, towns and villages in the country.
Highway construction in India increased at 21.44 per cent CAGR between FY16-FY19. In FY19, 10,855 km of highways were constructed, and the Government has set a target for constructing 12,000 km of national highways in FY20. In March 2020, NHAI (National Highways Authority of India) accomplished the highest ever highway construction of 3,979 kms.
In April 2020, the Government set a target of constructing roads worth Rs 15 lakh crore (US$ 212.80 billion) in the next two years. The development of infrastructure and road network is the key growth path of compactors equipment and all others construction machinery. The compactors market size is expected to grow at 3% CAGR between 2020-2025.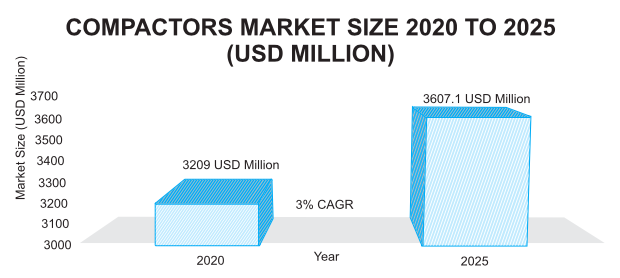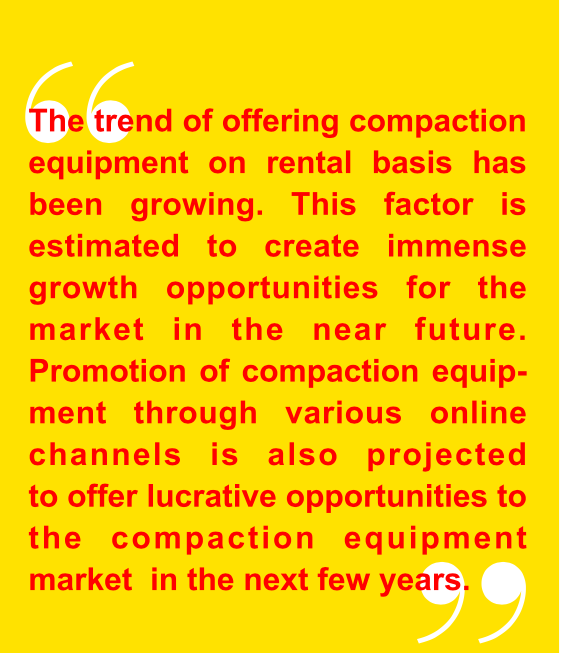 By types, stationary compactor equipment is anticipated to register significant growth throughout the forecasted period on account of an increase in usage of the stationary compactor in the construction and industrial sector for compacting crushed rock, grading, compacting the backfill in narrow trenches and compacting refuse vehicles. The government of India has come up with an initiative to encourage public-private partnerships (PPP's) and foreign investors to participate in several infrastructure projects such as coastal road project, char Dham highway, char Dham railway, Chenab bridge, eastern dedicated freight corridor, kalpasar project, and Delhi-Mumbai industrial corridor project, thus creating demand for compactor equipment in the upcoming years.
Fuel efficiency of compactors
The technology upgradation is increasing y-o-y by manufacturers and the demand for fuel efficiency compactors are in trend. Manufacturers are also focusing on coming out with machines that are fuel-efficient and require minimal maintenance, all adding to the good news for contractors. With competition, intensifying suppliers are concentrating on coming out with machines that would ideally suit Indian working conditions, where typically these machines would be put through more number of work cycles, as compared to the developed world. Global players who have entered the fray in India have been getting feedback from end-users and have been focusing their R&D towards machines that are specifically suited for India. A rapidly evolving market, India is today on the radar of almost every leading global manufacturer of compaction equipment. Competition is getting intense by the day and suppliers are banking on innovative product features and technology to woo customers. A lot of focus is also on offering environment-friendly and fuel-efficient engines these days. And manufacturers are working on new and competitive innovation to reduce the fuel consumption, motion and automation, real time report etc as per the demand of the compactors market.
Impact of Covid-19 in Road Compactor Market
Since the COVID-19 virus outbreak in December 2019, the disease has spread to almost every country around the globe with the WHO (World Health Organization) declaring it a public health emergency. The global impacts of the coronavirus disease 2019 (COVID-19) are already starting to be felt, and will significantly affect the Road Compactor market in 2020. The outbreak of COVID-19 has brought effects on many aspects, like flight cancellations; travel bans and quarantines; restaurants closed; all indoor/outdoor events restricted; over forty countries state of emergency declared; massive slowing of the supply chain; stock market volatility; falling business confidence, growing panic among the population, and uncertainty about future. New constructions have been slowed down due to short cash flow in this segment. All the infrastructure development work is going slow because of less manpower. All the aspects hit the demand of new compactor in the market. The economy has started recovering itself but it's not a one day process. It may take a few quarters to come back as a normal cycle.